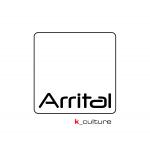 Arrital is a 100% Made in Italy Certified Italian Manufacturer
Trend
Andrea Santantonio
(+39) 0434-567411
Arrital S.p.a. has produced design kitchens in Fontanafredda (Pordenone) since 1979. Since then it invests in human resources, technology and production processes to offer innovative solutions for the kitchen. It debuts with the production of modular kitchens immediately appreciated for their attention to details and the quality of the materials chosen. As early as the late 80s it approaches the international markets and soon becomes synonym of reliability. In 2013 the company purchases Altamarea, a mid to high-end brand in the bathroom industry, in order to create a "home system" made of consistent and related environments, optimising the productive, logistical and commercial resources. Arrital reaches today its clients in over 30 countries worldwide and can count on its 170 employees and some 55 thousand sqm facility over an area of over 115 thousand sqm. Passion for quality and innovation has always marked Arrital path and led to sustainable choices in its relations with the environment. An example of this is the photovoltaic installation which makes it almost autonomous.
Search for more Products or more Manufacturers
Send your requests through this form and we will get back to you.
100% Made in Italy Certified Products
The 100% Made in Italy Certification provides consumers with the guarantee on the Italian orgin and the quality of purchased products. Manufacturers issued with the 100% Made in Italy Certification undergo a series of checks in order to verify that the entire production cycle takes place in Italy. The Certification follows the directives set in current Italian laws.
ISTITUTO TUTELA PRODUTTORI ITALIANI
Fermo | Palazzo Produttori | Via Carlo Cattaneo 1 | Tel. +39 0734 605481 |
[email protected]