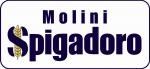 Molini Spigadoro is a 100% Made in Italy Certified Italian Manufacturer
STYLES
ANNALISA TARDIOLI
(+39) 0758009216/3423
Molini Spigadoro operates in Umbria, the "green heart" of Italy, a land known worldwide for his vocation and agribusiness for quality agricultural crops. Its origins and its geographical position, which place in the beautiful setting of Assisi, make a company attentive to the values ​​of respect, of accountability and transparency. Molini Spigadoro is now an industry benchmark for innovation of production processes, the production of special flours and superior quality. Thanks to a dynamic and consistent business development, inspired by the experimentation and the search for excellence, the company is placed on the flour market with a wide range of products and strongly characterized: a classic line for bakery products, to those specifications for baking and the pizza, to the line of high nutritional value.
Search for more Products or more Manufacturers
Send your requests through this form and we will get back to you.
100% Made in Italy Certified Products
The 100% Made in Italy Certification provides consumers with the guarantee on the Italian orgin and the quality of purchased products. Manufacturers issued with the 100% Made in Italy Certification undergo a series of checks in order to verify that the entire production cycle takes place in Italy. The Certification follows the directives set in current Italian laws.
ISTITUTO TUTELA PRODUTTORI ITALIANI
Fermo | Palazzo Produttori | Via Carlo Cattaneo 1 | Tel. +39 0734 605481 |
[email protected]