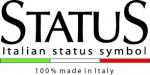 Status is a 100% Made in Italy Certified Italian Manufacturer
STYLES
Alice Piovesana
(+39) 0434-75195
STATUS is a young and dynamic company, but with a consolidate experience in the design, production and sale of Italian furniture. Located in North East Italy, close to Venice, STATUS is the result of an Innovative Project, developed by a team of highly skilled professionals with a deep knowledge of the latest production techniques and market trends. Our strength? With more than twenty years of experience in the production of furniture and furnishings, cutting-edge technological know-how and constant market and consumer research projects, these are our key greatest strengths. All of these have enabled us to export the STATUS brand and product all over the world. Constant collaboration with architects and external designers along with the use of high precision machinery enables STATUS to produce the greatest quality furniture. All of this is reflected in an attractive price-quality ratio accessible to all, and enables STATUS to keep pace with current market trends and changes.
Search for more Products or more Manufacturers
Send your requests through this form and we will get back to you.
100% Made in Italy Certified Products
The 100% Made in Italy Certification provides consumers with the guarantee on the Italian orgin and the quality of purchased products. Manufacturers issued with the 100% Made in Italy Certification undergo a series of checks in order to verify that the entire production cycle takes place in Italy. The Certification follows the directives set in current Italian laws.
ISTITUTO TUTELA PRODUTTORI ITALIANI
Fermo | Palazzo Produttori | Via Carlo Cattaneo 1 | Tel. +39 0734 605481 |
[email protected]