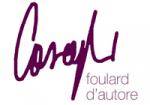 CASAGLI is a 100% Made in Italy Certified Italian Manufacturer
Fashion accessories
luciano zavaglia
(+39) 339-8398321
Rigorously made by silk, the "little ones" from Maison Casagli Foulard are real classy oitems and the flow of time does not affect their beauty. That's because of the painter Casagli who, with skill and creative flair, brought the foulard at a level between fashion and art. Unmistakable style and elegance for a must have accessory capable to give a special touch to any look.
Search for more Products or more Manufacturers
Send your requests through this form and we will get back to you.
100% Made in Italy Certified Products
The 100% Made in Italy Certification provides consumers with the guarantee on the Italian orgin and the quality of purchased products. Manufacturers issued with the 100% Made in Italy Certification undergo a series of checks in order to verify that the entire production cycle takes place in Italy. The Certification follows the directives set in current Italian laws.
ISTITUTO TUTELA PRODUTTORI ITALIANI
Fermo | Palazzo Produttori | Via Carlo Cattaneo 1 | Tel. +39 0734 605481 |
[email protected]