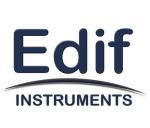 Edif is a 100% Made in Italy Certified Italian Manufacturer
PRODUCTS
Enrico Duimich
(+39) 06-5127161
Edif was founded in 1987 as a firm primarily dealing with the development of custom projects for the industrial automation industry. The collaboration various universities, such as the Università La Sapienza of Rome, Università Federico II of Napoli has proven its excellence in various engineering fields. During these early years it became clear that the manufactured production of automated instruments indicates a path for future development.
Search for more Products or more Manufacturers
Send your requests through this form and we will get back to you.
100% Made in Italy Certified Products
The 100% Made in Italy Certification provides consumers with the guarantee on the Italian orgin and the quality of purchased products. Manufacturers issued with the 100% Made in Italy Certification undergo a series of checks in order to verify that the entire production cycle takes place in Italy. The Certification follows the directives set in current Italian laws.
ISTITUTO TUTELA PRODUTTORI ITALIANI
Fermo | Palazzo Produttori | Via Carlo Cattaneo 1 | Tel. +39 0734 605481 |
[email protected]