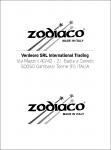 ZODIACO is a 100% Made in Italy Certified Italian Manufacturer
Fashion accessories
SANDRO SARDELLI
(+39) 0571666781
The brand ZODIACO was born in 1971,thanks to the initiative of Elio Sardelli. Things have been radically transformed since then: after various company evolutions and vicissitudes ZODIACO is now an Italian excellence in the medium-high footwear market MADE IN ITALY,. It develops and produces a wide variety of styles for this sector: from elegant evening sandals to sporty versions, from thongs to casual slippers.
Search for more Products or more Manufacturers
Send your requests through this form and we will get back to you.
100% Made in Italy Certified Products
The 100% Made in Italy Certification provides consumers with the guarantee on the Italian orgin and the quality of purchased products. Manufacturers issued with the 100% Made in Italy Certification undergo a series of checks in order to verify that the entire production cycle takes place in Italy. The Certification follows the directives set in current Italian laws.
ISTITUTO TUTELA PRODUTTORI ITALIANI
Fermo | Palazzo Produttori | Via Carlo Cattaneo 1 | Tel. +39 0734 605481 |
[email protected]