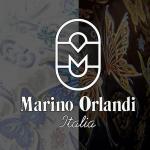 MARINO ORLANDI is a 100% Made in Italy Certified Italian Manufacturer
PRODUCTS
Marino Orlandi
(+39) 0733281294
In 1970, the MARINO ORLANDI LEATHERWORKS was founded in the heart of the Macerata district famous for its tradition of craftsmanship. It grew and evolved from the passion, love and experience of a man who made his own hands into an art. And still today he creates, with the help of his staff, the form, the structure and all the bases for a "winning bag" as it is seen today on the world market. Marino Orlandi and his staff have created a style that exists outside time and space, where bare essentials are mixed with fleeting emotions.
Search for more Products or more Manufacturers
Send your requests through this form and we will get back to you.
100% Made in Italy Certified Products
The 100% Made in Italy Certification provides consumers with the guarantee on the Italian orgin and the quality of purchased products. Manufacturers issued with the 100% Made in Italy Certification undergo a series of checks in order to verify that the entire production cycle takes place in Italy. The Certification follows the directives set in current Italian laws.
ISTITUTO TUTELA PRODUTTORI ITALIANI
Fermo | Palazzo Produttori | Via Carlo Cattaneo 1 | Tel. +39 0734 605481 |
[email protected]