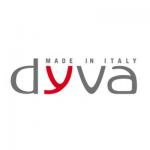 DYVA is a 100% Made in Italy Certified Italian Manufacturer
Fashion accessories
Francesco Ballin
(+39) 0499801066
DYVA: ELEGANCE AND COMFORT 1978 - Stemming from the passion for women's shoes, a small workshop was opened in Venice. This workshop began, almost immediately, working alongside some of the most important names in the Italian fashion industry, and thanks to the determination and to the expert skills offered achieved numerous success over the years. Result the creation of the brand Dyva. 1992 - This small workshop was transformed into an industrial production site located in the famous and acknowledged shoemaking region: Riviera del Brenta. By encompassing tradition, experience and innovation Dyva expanded into the most important international markets offering superior quality products with that unmistakable Italian design. 2001 - This family passion for shoes was handed down by Francesco and Marina, the owners, to their children and together, today, they keep this time lasting tradition of Master Shoemakers alive combining it with the most modern fashion trends. TODAY - Elegance and comfort merge. This is Dyva�s goal, exporting worldwide its design and true quality by meticulously selecting the leather and accessories. A product which is produced entirely in Italy with 100% Italian materials aiming at offering shoes that are comfortable to wear throughout the entire day. This tradition handed down from father to son is combined with the most sophisticated technologies and traditional handcrafting techniques giving life to a dream.
Search for more Products or more Manufacturers
Send your requests through this form and we will get back to you.
100% Made in Italy Certified Products
The 100% Made in Italy Certification provides consumers with the guarantee on the Italian orgin and the quality of purchased products. Manufacturers issued with the 100% Made in Italy Certification undergo a series of checks in order to verify that the entire production cycle takes place in Italy. The Certification follows the directives set in current Italian laws.
ISTITUTO TUTELA PRODUTTORI ITALIANI
Fermo | Palazzo Produttori | Via Carlo Cattaneo 1 | Tel. +39 0734 605481 |
[email protected]