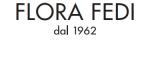 FLORA FEDI is a 100% Made in Italy Certified Italian Manufacturer
PRODUCTS
(+39) 0558392837
Denny knitwear factory, founded in 1952, under its present name since 1962, started its activity of Production for Women Knitwear, Man and accessories in Cashmere and much more suppling italian and foreign market as a household company. The founder, Mrs. Flora assisted later by her son Roberto Ciampolini, turns her attention to provide an high quality product on the market, aptitude that still remains today one of the strengths of the company. For over thirty years, in the same tradition of excellence, Denny collection is identified as a knitting product MADE IN ITALY, created with fine yarns, from cashmere, merino, viscose to cotton and silk. Denny's collection is created with the intent to meet a high-end market, it's designed and conceived on solid bases pointing to quality and modern design. The passion and love for knitting is the main driver, and the working group combines professionalism, technical competence and artisan creativity. Denny has within his company, a department specifically dedicated to the sampling phase, following its collections from the planning through to the final product. Tradition and creativity are also dedicated to other brands for the development of custom collections.
Search for more Products or more Manufacturers
Send your requests through this form and we will get back to you.
100% Made in Italy Certified Products
The 100% Made in Italy Certification provides consumers with the guarantee on the Italian orgin and the quality of purchased products. Manufacturers issued with the 100% Made in Italy Certification undergo a series of checks in order to verify that the entire production cycle takes place in Italy. The Certification follows the directives set in current Italian laws.
ISTITUTO TUTELA PRODUTTORI ITALIANI
Fermo | Palazzo Produttori | Via Carlo Cattaneo 1 | Tel. +39 0734 605481 |
[email protected]