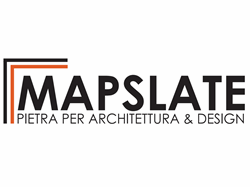 NATURARDESIA is a 100% Made in Italy Certified Italian Manufacturer
Furnishing
Franco Matteucci
(+39) 018592224
The italian slate manufacturer Map Slate was established in Fontanabuona Valley (Genoa-Italy), where the Slate Stone was born, where the centenary tradition and the knowledge of the Ligurian handicraft carry on an antique work, technologically renewed but with precious values preserved. The company trades not only Ligurian Slates: the catalog includes other types of slates and stones from different countries: Quarried Black Slate, Sea Slate, Purple Slate, Green Slate, Multicolor Slate, Cardosia, Quarzite and Brazilian Slate. Check our Slate slabs The staff is available to lead the customers for choosing the most suitable Slate stone that matches their needs, describing the features and peculiarities that each material contains. The Slate is a durable and versatile stone, which is why it can be used for many applications: roofing, facades, claddings, floors and walls, skirting boards, interior and outdoor stairs. The production of slates allows the use of the stones as custom pieces of furnitor, such as: Slate Table Tops; Slate Kitchen Tops; Slate Sinks, Slate Bathroom Top and Slate Shower Trays. The splitted Slates are created using a simple chisel, while the honed ones are brushed and sandblasted; the majority of the materials is completely acid proof and and stain resistant. Although it appears extremely delicate when touched, Natural Slate Slabs will surprise customers because of its impermeability and resistance characteristics.
Search for more Products or more Manufacturers
Send your requests through this form and we will get back to you.
100% Made in Italy Certified Products
The 100% Made in Italy Certification provides consumers with the guarantee on the Italian orgin and the quality of purchased products. Manufacturers issued with the 100% Made in Italy Certification undergo a series of checks in order to verify that the entire production cycle takes place in Italy. The Certification follows the directives set in current Italian laws.
ISTITUTO TUTELA PRODUTTORI ITALIANI
Fermo | Palazzo Produttori | Via Carlo Cattaneo 1 | Tel. +39 0734 605481 |
[email protected]