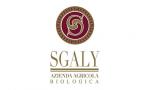 SGALY is a 100% Made in Italy Certified Italian Manufacturer
Beverages
Tommaso Sgalippa
(+39) 0734770012
In the mid-80s Tommaso Sgalippa, after completing his studies at the ITAS in Ascoli Piceno, took over the family business that in the last five years had been carried out with great firmness and obstinacy only by his mother Rosa for the untimely death of the dad. After about ten years of hard work in the fields, dissatisfied with the goals achieved but enthusiastic about his job and convinced of his choices, with sweat, renunciation and hope begins his adventure. The goal is to create a high quality production chain with the main product of the company, that is the grapes. In the second half of the 90s, a company restructuring plan began, where, in addition to increasing the production potential with new vineyards, the company introduced an innovative production philosophy based on respect for the sacrosanct of the environment and therefore oriented towards obtaining a product. healthy and genuine. The adhesion to the reg. cee 2078/92 (low environmental impact) before and to reg. cee 2092/91 (Organic Farming) in 2004, represented the two milestones of this project which then became a reality in 2005 with the construction of a modern winery in Aso di Ortezzano which today, with great satisfaction, allows a real appreciation of the efforts and of the commitments that the vineyard requires every day and that are exalted in the fine wines that the Sgalippa family sells with pride under the SGALY brand.
Search for more Products or more Manufacturers
Send your requests through this form and we will get back to you.
100% Made in Italy Certified Products
The 100% Made in Italy Certification provides consumers with the guarantee on the Italian orgin and the quality of purchased products. Manufacturers issued with the 100% Made in Italy Certification undergo a series of checks in order to verify that the entire production cycle takes place in Italy. The Certification follows the directives set in current Italian laws.
ISTITUTO TUTELA PRODUTTORI ITALIANI
Fermo | Palazzo Produttori | Via Carlo Cattaneo 1 | Tel. +39 0734 605481 |
[email protected]