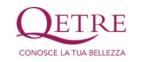 Qetre is a 100% Made in Italy Certified Italian Manufacturer
PRODUCTS
(+39) 035-691325
Founded in 2002, Qetre has always managed to meet the challenges of a constantly evolving market, establishing itself nationally and internationally as an important reference in the design and production of equipment for aesthetic use. Qetre has developed important commercial partnerships until it became the exclusive distributor in Italy of well-known brands: the German Klapp Cosmetics, for the aesthetic channel, and the Canadian Clayton Shagal, for the dermaceutical products. Qetre, a success that knows no boundaries.
Search for more Products or more Manufacturers
Send your requests through this form and we will get back to you.
100% Made in Italy Certified Products
The 100% Made in Italy Certification provides consumers with the guarantee on the Italian orgin and the quality of purchased products. Manufacturers issued with the 100% Made in Italy Certification undergo a series of checks in order to verify that the entire production cycle takes place in Italy. The Certification follows the directives set in current Italian laws.
ISTITUTO TUTELA PRODUTTORI ITALIANI
Fermo | Palazzo Produttori | Via Carlo Cattaneo 1 | Tel. +39 0734 605481 |
[email protected]