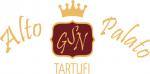 ALTO PALATO is a 100% Made in Italy Certified Italian Manufacturer
PRODUCTS
Angelo Sabetta
(+39)
The story of Angelo Sabetta and the truffles began in 1989 when, by chance, he listened to a thematic conversation. At the time he does not know truffles, he is a painter by profession. A little out of necessity, due to the lack of work in winter, partly out of curiosity, he decides to become a truffle seeker. In the province they explain to him that an exam is needed to get the license and, in a month's time, he passes it. After obtaining the license, buy a dog, but a problem arises: he does not know where to look for truffles. Don't get discouraged. Slowly he understands where to venture, what are the right areas, the land, the trees. Things change when, due to asthma problems he has been suffering from for a while, he cannot do the painter anymore. Thus in 2001 he opened a laboratory for the transformation of truffles after obtaining the license and having bought the suitable equipment. Tartufi Sabetta is today a family business where Angelo, his wife and son work. They are present in various foreign markets, including Japan, Germany and Austria. A great satisfaction with some sore points. "Molise is little known, few know that there is an excellent truffle. I came into contact with foreign tourists doing fairs, now they are mainly Japanese here who are enchanted by this land. Molise has everything at hand: sea, mountains, hills and excellent products. But more needs to be done: investing in promotion, in territorial marketing, collaborating.
Search for more Products or more Manufacturers
Send your requests through this form and we will get back to you.
100% Made in Italy Certified Products
The 100% Made in Italy Certification provides consumers with the guarantee on the Italian orgin and the quality of purchased products. Manufacturers issued with the 100% Made in Italy Certification undergo a series of checks in order to verify that the entire production cycle takes place in Italy. The Certification follows the directives set in current Italian laws.
ISTITUTO TUTELA PRODUTTORI ITALIANI
Fermo | Palazzo Produttori | Via Carlo Cattaneo 1 | Tel. +39 0734 605481 |
[email protected]