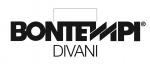 BONTEMPI DIVANI is a 100% Made in Italy Certified Italian Manufacturer
Upholstered furniture
Alessandro Arena
(+39)
Bontempi has a story of men before projects, a company made up of people who work every day to turn dreams into products. A story that began in 1963, the same as yesterday in the obsessive search for QUALITY, in the PASSION that we put into our profession, but obviously grew up in the experience and turned into numbers. Still determined to propose the philosophy of living BEAUTY in functionality and comfort.
Search for more Products or more Manufacturers
Send your requests through this form and we will get back to you.
100% Made in Italy Certified Products
The 100% Made in Italy Certification provides consumers with the guarantee on the Italian orgin and the quality of purchased products. Manufacturers issued with the 100% Made in Italy Certification undergo a series of checks in order to verify that the entire production cycle takes place in Italy. The Certification follows the directives set in current Italian laws.
ISTITUTO TUTELA PRODUTTORI ITALIANI
Fermo | Palazzo Produttori | Via Carlo Cattaneo 1 | Tel. +39 0734 605481 |
[email protected]