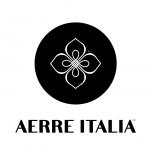 AERRE ITALIA is a 100% Made in Italy Certified Italian Manufacturer
Upholstered furniture
Raffaele Valentini
(+39)
AERRE ITALIA was born in Italy in 1974 in Forlì, one of the great centers of national upholstery. The founder Vincenzo Arena, shop upholsterer, begins to collaborate with the best artisans in the area, creating, step by step, what will become a brand of excellence in the artisan sector of international furniture. It develops an exclusively Italian production and enhancing this peculiarity from the beginning of the production process, using quality materials from companies that are present exclusively on the national territory. All AERRE ITALIA collections are designed and created by a team of highly specialized designers, technicians and prototypists, dynamic professionals who aim for the safety of the result and the effectiveness of the finished product. The numerous annual stylistic proposals are the result of a careful look, open to fashion trends, to contemporary design languages, to colors and not less to comfort in line with the needs of such a widespread clientele. Quality, Design, Service. The cornerstones on which the company's philosophy is based translate into the culture of excellent upholstered furniture design.
Search for more Products or more Manufacturers
Send your requests through this form and we will get back to you.
100% Made in Italy Certified Products
The 100% Made in Italy Certification provides consumers with the guarantee on the Italian orgin and the quality of purchased products. Manufacturers issued with the 100% Made in Italy Certification undergo a series of checks in order to verify that the entire production cycle takes place in Italy. The Certification follows the directives set in current Italian laws.
ISTITUTO TUTELA PRODUTTORI ITALIANI
Fermo | Palazzo Produttori | Via Carlo Cattaneo 1 | Tel. +39 0734 605481 |
[email protected]