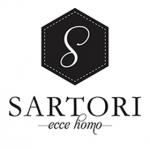 SARTORI ECCE HOMO is a 100% Made in Italy Certified Italian Manufacturer
Outerwear
Serena Chiavegato
(+39) 0442510048
Being unique is definitely a big responsibility. Being unique means knowing how to amaze, to excite thanks to the selection of clothes to wear. Linea Sartori researches and assembles materials and processes to produce unique garments in style, elegance and wearability that can be worn casually on any occasion. We give man all the tools to best express his qualities, enhancing the physicality and accentuating the fascination he attracts without ever falling into the vulgar, maintaining an always UNIQUE elegance!
Search for more Products or more Manufacturers
Send your requests through this form and we will get back to you.
100% Made in Italy Certified Products
The 100% Made in Italy Certification provides consumers with the guarantee on the Italian orgin and the quality of purchased products. Manufacturers issued with the 100% Made in Italy Certification undergo a series of checks in order to verify that the entire production cycle takes place in Italy. The Certification follows the directives set in current Italian laws.
ISTITUTO TUTELA PRODUTTORI ITALIANI
Fermo | Palazzo Produttori | Via Carlo Cattaneo 1 | Tel. +39 0734 605481 |
[email protected]