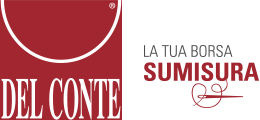 DEL CONTE is a 100% Made in Italy Certified Italian Manufacturer
Leather
Bruno Aver – Nicola Magon
(+39) 0444592218
The Del Conte company was founded in 1984 thanks to the passion and knowledge of the Venetian leather manufacturer of Mr. Bruno Aver, president of the company. Located north of Vicenza, in the region that represents the heart of Italian artisan leather goods and which the owner wanted to strongly enhance by linking the name of its brand to the Palladian villa located near the plant. The passion that Mr. Aver dedicates to the creation of leather bags has made our design unique and known throughout the world for its beauty and quality. The choice of materials and the precision used in the manufacture of the product, as well as the respect for the Italian artisan tradition, are our strengths. The Del Conte collection is created thanks to the continuous study of our team of stylists and artisans, always looking for the most glamorous aspects of the moment in respect of quality, beauty, practicality (partitions, zips, pockets) and identification of one's own style. Every phase of product processing, from the choice of leather to cutting, from the assembly of accessories to the finish, is strictly carried out in compliance with a strict quality control within our laboratory.
Search for more Products or more Manufacturers
Send your requests through this form and we will get back to you.
100% Made in Italy Certified Products
The 100% Made in Italy Certification provides consumers with the guarantee on the Italian orgin and the quality of purchased products. Manufacturers issued with the 100% Made in Italy Certification undergo a series of checks in order to verify that the entire production cycle takes place in Italy. The Certification follows the directives set in current Italian laws.
ISTITUTO TUTELA PRODUTTORI ITALIANI
Fermo | Palazzo Produttori | Via Carlo Cattaneo 1 | Tel. +39 0734 605481 |
[email protected]