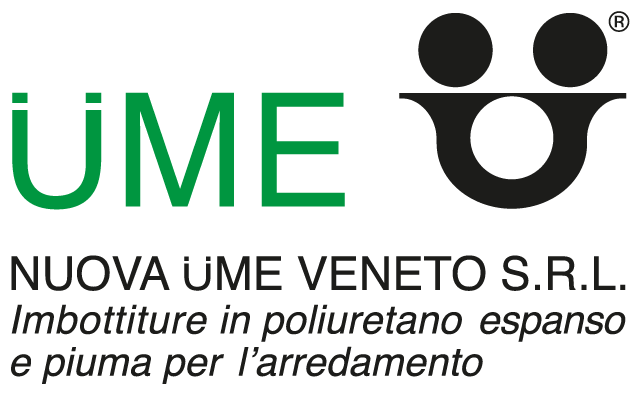 Ume is a 100% Made in Italy Certified Italian Manufacturer
Furnishing
Massimiliano Menditto
(+39)
NEW UME VENETO SINCE 1972 UME Veneto, founded in 1972, is a company specialized in the production of upholstery for sofas, armchairs, chairs, beds and upholstery in general, in polyurethane foam, fiber and down, also fireproof: we select, test and use many of the best materials on the market, meeting all the main certifications. We are able to create any type of padding thanks to the high specialization of our staff and the many high-tech equipment available at our factories. One of our sectors of excellence is the production of down padding where high precision is required in the finishes and details that only expert hands can make.  Our research and development office is at your disposal to "create and give shape to your ideas and your projects" with the passion, competence and professionalism that distinguish us and that thanks to you, allow us to continue on our path of updating and of growth. Given our continuous updating on the regulations in force, we are able to create any type of padding and furniture specific for the naval and hotel contract sector, using the best fireproof materials including "white" products. Inside our warehouse we find more than 100 types of different materials divided between polyurethane foam, fibers and wadding, feathers, fibers and microfibers, interposed, fabrics and coupled in general, each with its own certification. We are able to supply you with any type of blank product, on a project, both conventional and fireproof, for which you will then have to think only of the coating. Everything is produced in the Campodarsego (PD) factory, guaranteeing the final product the quality and care of a completely handmade Made in Italy creation.
Search for more Products or more Manufacturers
Send your requests through this form and we will get back to you.
100% Made in Italy Certified Products
The 100% Made in Italy Certification provides consumers with the guarantee on the Italian orgin and the quality of purchased products. Manufacturers issued with the 100% Made in Italy Certification undergo a series of checks in order to verify that the entire production cycle takes place in Italy. The Certification follows the directives set in current Italian laws.
ISTITUTO TUTELA PRODUTTORI ITALIANI
Fermo | Palazzo Produttori | Via Carlo Cattaneo 1 | Tel. +39 0734 605481 |
[email protected]