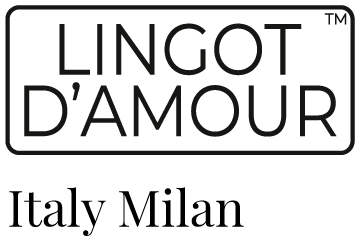 Lingot D´Amour is a 100% Made in Italy Certified Italian Manufacturer
PRODUCTS
Sonia Dello Strologo
(+39) 3474854706
Lingot d'Amour Pure, precious moments of life to be worn. Your truth enclosed in a pure ingot, to celebrate life itself in every facet. She Precious, elegant, casual, refined, with character, winking, simple, sophisticated, relaxed, with a live fire on them. Puri. Comets. He A moment to remember, to celebrate, to show. A glitter that reminds us of who we are. Self-expression, the truest, purest one. Silver 999 Pure ingots, in 999.9 gold or 999 silver for a line for her and for him of earrings, chains, bracelets and cufflinks with refined simplicity. Gold 999.9 Your style, in a jewel: Lingot d'Amour is the truest expression of all your emotions, a metropolitan and transforming soul that can accompany you in all your #lifemoments.
Search for more Products or more Manufacturers
Send your requests through this form and we will get back to you.
100% Made in Italy Certified Products
The 100% Made in Italy Certification provides consumers with the guarantee on the Italian orgin and the quality of purchased products. Manufacturers issued with the 100% Made in Italy Certification undergo a series of checks in order to verify that the entire production cycle takes place in Italy. The Certification follows the directives set in current Italian laws.
ISTITUTO TUTELA PRODUTTORI ITALIANI
Fermo | Palazzo Produttori | Via Carlo Cattaneo 1 | Tel. +39 0734 605481 |
[email protected]