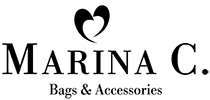 MARINA C. is a 100% Made in Italy Certified Italian Manufacturer
Leather
Victoriya Lytovchenko
(+39)
In 2001 Giammarco Marzialetti and his wife Victoriya Lytovchenko founded the Trade House company specialized in the creation and production of bags and accessories for men and women. Entrepreneurial activity subsequently grew to become an important reality in Europe and Russia, where the products created by Victoriya's creative ideas became trendy items sought after for their exclusive design in a few years. Today Marina C is a brand known in the main reference markets in Italy, Russia and Europe. Thanks to the careful research of innovation and the creative skills for the realization of its products, Marina Creazioni has become a product of Italian excellence. Continuing to grow is one of our goals, which is why MRNC was born, a brand that contains within its logo all the contemporaneity of current fashion. A more modern translation, which interfaces with today, towards a logo that is a symbol of belonging.
Search for more Products or more Manufacturers
Send your requests through this form and we will get back to you.
100% Made in Italy Certified Products
The 100% Made in Italy Certification provides consumers with the guarantee on the Italian orgin and the quality of purchased products. Manufacturers issued with the 100% Made in Italy Certification undergo a series of checks in order to verify that the entire production cycle takes place in Italy. The Certification follows the directives set in current Italian laws.
ISTITUTO TUTELA PRODUTTORI ITALIANI
Fermo | Palazzo Produttori | Via Carlo Cattaneo 1 | Tel. +39 0734 605481 |
[email protected]