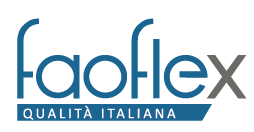 FAO FLEX is a 100% Made in Italy Certified Italian Manufacturer
Woman
CRISTIANO ZANELLA
(+39) 0423-979214 042
405 / 5000 Risultati della traduzione Our company was founded in 1974 in Segusino, at the foot of the Dolomites and on the banks of the historic Piave river. In all these years we have refined our professionalism and our experience in the sector. We also produce and distribute licensed brands and house brands, and this has led us to be among the most important niche eyewear distributors on the Italian scene.
Search for more Products or more Manufacturers
Send your requests through this form and we will get back to you.
100% Made in Italy Certified Products
The 100% Made in Italy Certification provides consumers with the guarantee on the Italian orgin and the quality of purchased products. Manufacturers issued with the 100% Made in Italy Certification undergo a series of checks in order to verify that the entire production cycle takes place in Italy. The Certification follows the directives set in current Italian laws.
ISTITUTO TUTELA PRODUTTORI ITALIANI
Fermo | Palazzo Produttori | Via Carlo Cattaneo 1 | Tel. +39 0734 605481 |
[email protected]