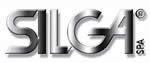 SILGA is a 100% Made in Italy Certified Italian Manufacturer
Precise, essential and functional design is translated into a product made of unalterable materials and safe for your health. World wide competition as always so aggressive in this field, it permits to our company to satisfy a large range of costumers all around the planet.The main production of SILGA is focused on the home ranges TEKNIKA by SILGA, EKOLOGA and EUROSILGA. SILGA propose a method of cooking which uses the natural oils contained the food. This type of cooking is possible due to the heat diffusing base, which maintains a constant and uniform heat distribution throughout the base, and to the steam recycling lid. The cooking utensils derive from a modular, multifunctional design in which all the elements are interchangeable for producing food that is healthy, energy giving and suited to the needs of a modern life. The ranges are produced with high thicknesses of stainless steel for the body of the pots and high thickness of aluminum protected by the magnetic capsule which allows the cooking on all energy sources. The choice of materials and the advanced technology manufacturing process used offer a guarantee of quality and durability.
Search for more Products or more Manufacturers
Send your requests through this form and we will get back to you.
100% Made in Italy Certified Products
The 100% Made in Italy Certification provides consumers with the guarantee on the Italian orgin and the quality of purchased products. Manufacturers issued with the 100% Made in Italy Certification undergo a series of checks in order to verify that the entire production cycle takes place in Italy. The Certification follows the directives set in current Italian laws.
ISTITUTO TUTELA PRODUTTORI ITALIANI
Fermo | Palazzo Produttori | Via Carlo Cattaneo 1 | Tel. +39 0734 605481 |
[email protected]