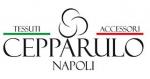 CEPPARULO is a 100% Made in Italy Certified Italian Manufacturer
Fashion accessories
Cepparulo Giuseppe / Pamela Cepparulo
(+39) 081-8282843
Five brothers started the business by expanding their work year after year and proposing an ever wider offer both in the men's sector and in the purely women's clothing sector. Since the birth of the company, the five Cepparulo brothers have actively participated in the improvement of the general structure of their business, always introducing new projects and expanding the offers and the various activities to be carried out within the company. Nowadays we have come to have an activity specialized in the creation and sale of accessories for men and women, quality scarves and ties and in the name of Made in Italy. What does not change, even after many years, are the desire to do and the enthusiasm that have always characterized Cepparulo since its birth, together with the very high quality of the fabrics and the mastery of the Italian craftsmanship. over the years it has transformed into a real brand and therefore it has become necessary to export the brand outside the Neapolitan borders, where it had seen its birth. Currently there are various showrooms: in addition to the historic store located in the province of Naples, at Ottaviano, in fact, it is possible to visit the brand's showrooms in the cities of Milan, Bari and Moscow, the Russian capital. Within each store you can rely on the team experienced in selling accessories for men and women and who will direct customers towards products suitable for the different needs and personal tastes of each one.
Search for more Products or more Manufacturers
Send your requests through this form and we will get back to you.
100% Made in Italy Certified Products
The 100% Made in Italy Certification provides consumers with the guarantee on the Italian orgin and the quality of purchased products. Manufacturers issued with the 100% Made in Italy Certification undergo a series of checks in order to verify that the entire production cycle takes place in Italy. The Certification follows the directives set in current Italian laws.
ISTITUTO TUTELA PRODUTTORI ITALIANI
Fermo | Palazzo Produttori | Via Carlo Cattaneo 1 | Tel. +39 0734 605481 |
[email protected]