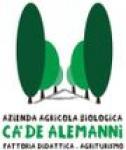 CA´ DE ALEMANNI is a 100% Made in Italy Certified Italian Manufacturer
Food
Beatrice Santini
(+39) 393-9461541
For many years our farm has been offering quality products to its customers, made with natural methods and in full compliance with safety. We are an open and multifunctional farm in Malagnino that offers not only fresh food products but also educational and training services for schools of all kinds and levels. In our company shop we also dedicate ourselves to the direct sale of food from other important local agricultural realities, promoting the tradition of a rich territory to be discovered. Over the years we have converted our reality to organic, working every day with natural methods that respect the natural life cycle of plants and animals. We power our company in a sustainable way, using a latest generation photovoltaic system, positioned on the roof of the stables. We are not dedicated only to the sale of fresh food products but we also organize themed days to allow you to get to know the rural world better.
Search for more Products or more Manufacturers
Send your requests through this form and we will get back to you.
100% Made in Italy Certified Products
The 100% Made in Italy Certification provides consumers with the guarantee on the Italian orgin and the quality of purchased products. Manufacturers issued with the 100% Made in Italy Certification undergo a series of checks in order to verify that the entire production cycle takes place in Italy. The Certification follows the directives set in current Italian laws.
ISTITUTO TUTELA PRODUTTORI ITALIANI
Fermo | Palazzo Produttori | Via Carlo Cattaneo 1 | Tel. +39 0734 605481 |
[email protected]