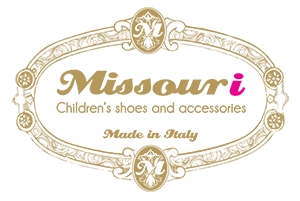 Missouri is a 100% Made in Italy Certified Italian Manufacturer
The Missouri brand has been in the world of quality and distinguished shoes, suitable for him and her, since 1972, fruit of the greatly experienced founder Sergio Ferracuti. Missouri, from 1971, is a brand that defines the parameters of the prestigious Italian footwear for the children's market. Monte Urano, the heart of the shoe district of the child, this is where the strength, passion, manufacturing experience, the values ​​of an entire family, involved in the front line, permeate the whole business fabric: from the birth of the product to the service given to the customers, to the Missouri brand value this in the best showcases around the world. The value of raw materials is life in creativity and design style of the best partners on the market. Missouri is synonymous with fashion, elegance, quality and warranty. We produce a complete collection of wedding shoes, dress, casual and sports, leather bags and belts coordinates. Missouri proposals for spring-summer 2017 are marked with the accurate and precious refinement. Where even the most casual creations take on a glamorous and romantic touch.
Search for more Products or more Manufacturers
Send your requests through this form and we will get back to you.
100% Made in Italy Certified Products
The 100% Made in Italy Certification provides consumers with the guarantee on the Italian orgin and the quality of purchased products. Manufacturers issued with the 100% Made in Italy Certification undergo a series of checks in order to verify that the entire production cycle takes place in Italy. The Certification follows the directives set in current Italian laws.
ISTITUTO TUTELA PRODUTTORI ITALIANI
Fermo | Palazzo Produttori | Via Carlo Cattaneo 1 | Tel. +39 0734 605481 |
[email protected]