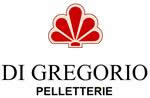 Di Gregorio is a 100% Made in Italy Certified Italian Manufacturer
Bruno Di Gregorio settled in Milan in 1963. At the beginning, when he took over the management of a small business passed down to him by his father John, things were none too easy for him. After a few years he chose to put all his efforts into the trade of leather goods, to which he then dedicated 25 years of constant commitment. Therefore, in 1988, he and his wife Giovanna decided to return to Alba Adriatica, located in an important district for the leather manufacturing industry. Here he set up as a sole trader with the company name "DI GREGORIO PELLETTERIA" which afterwards became the brand name of his produce. Bruno has always had a great spirit of initiative, determination, kindness and unconditional love for his work; these are the qualities that have been handed down in the Di Gregorio family from generation to generation. Over the years the company has grown remarkably; understanding the needs of the market have pushed the brand further and forward towards a greater emphasis on quality and technological innovation. With his son Giordano entering into the business, Bruno decided to start a new adventure in order to bring in more vigor and functionality to the company. The DI GREGORIO brand name today is associated with remarkable, high quality and ever evolving production within the fashion leather industry, with business relationships throughout Europe, America and China.
Search for more Products or more Manufacturers
Send your requests through this form and we will get back to you.
100% Made in Italy Certified Products
The 100% Made in Italy Certification provides consumers with the guarantee on the Italian orgin and the quality of purchased products. Manufacturers issued with the 100% Made in Italy Certification undergo a series of checks in order to verify that the entire production cycle takes place in Italy. The Certification follows the directives set in current Italian laws.
ISTITUTO TUTELA PRODUTTORI ITALIANI
Fermo | Palazzo Produttori | Via Carlo Cattaneo 1 | Tel. +39 0734 605481 |
[email protected]