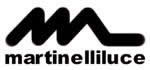 Martinelli Luce is a 100% Made in Italy Certified Italian Manufacturer
PRODUCTS
(+39) 0583 418315
The lighting apparata by Martinelli Luce are characterized by an essential design as well as by a project novelty; these elements have been the basis of the corporate philosophy for three generations. Elio Martinelli is inspired by nature and by geometry and creates functional lighting systems that are manufactured with materials used depending on their real characteristics. In this way, several lamps are produced such as Foglia, Bolla, Serpente, Cobra, Millepiedi, Dobermann, Rondini, Nuvole Vagabonde . Simple forms but with a deep meaning that have characterized the design history.
Search for more Products or more Manufacturers
Send your requests through this form and we will get back to you.
100% Made in Italy Certified Products
The 100% Made in Italy Certification provides consumers with the guarantee on the Italian orgin and the quality of purchased products. Manufacturers issued with the 100% Made in Italy Certification undergo a series of checks in order to verify that the entire production cycle takes place in Italy. The Certification follows the directives set in current Italian laws.
ISTITUTO TUTELA PRODUTTORI ITALIANI
Fermo | Palazzo Produttori | Via Carlo Cattaneo 1 | Tel. +39 0734 605481 |
[email protected]