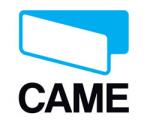 CAME is a 100% Made in Italy Certified Italian Manufacturer
The need to better supervise the markets and the need to standardize on a single point the definition of strategies and the government have led to the creation of the Came Group Holding, 100% owned by the family Menuzzo, dedicated to strengthening and exploitation of business synergies between the individual operating companies.
Search for more Products or more Manufacturers
Send your requests through this form and we will get back to you.
100% Made in Italy Certified Products
The 100% Made in Italy Certification provides consumers with the guarantee on the Italian orgin and the quality of purchased products. Manufacturers issued with the 100% Made in Italy Certification undergo a series of checks in order to verify that the entire production cycle takes place in Italy. The Certification follows the directives set in current Italian laws.
ISTITUTO TUTELA PRODUTTORI ITALIANI
Fermo | Palazzo Produttori | Via Carlo Cattaneo 1 | Tel. +39 0734 605481 |
[email protected]