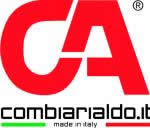 Combi Arialdo is a 100% Made in Italy Certified Italian Manufacturer
Components
(+39) 0341 530674
COMBIARIALDO is the story of an enterprise concept that has been able to transform the potential of its origins in skilled workmanship into a modern multinational reality,where cutting edge technology and care for the customer have founded a success that lives in thousands of industrial complexes throughout the world, day in day out, open their doors with Combiarialdo. A comprehensive range of components for any type of gate or industrial door, which is the result of over thirty years' experience and cutting edge, integrated production plant, where everything is underpinned towards always offering the most precise, professional and reliable answer even to the most special requirements.
Search for more Products or more Manufacturers
Send your requests through this form and we will get back to you.
100% Made in Italy Certified Products
The 100% Made in Italy Certification provides consumers with the guarantee on the Italian orgin and the quality of purchased products. Manufacturers issued with the 100% Made in Italy Certification undergo a series of checks in order to verify that the entire production cycle takes place in Italy. The Certification follows the directives set in current Italian laws.
ISTITUTO TUTELA PRODUTTORI ITALIANI
Fermo | Palazzo Produttori | Via Carlo Cattaneo 1 | Tel. +39 0734 605481 |
[email protected]