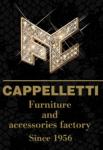 Cappelletti is a 100% Made in Italy Certified Italian Manufacturer
The company Cappelletti was born in 1956 as a manufacturer of metal components. Initially only he worked third parties for major furniture companies. In the seventies, Cantù company began producing brass beds that sold primarily in Italy. In 1980 the brass bed the market underwent a dangerous crash but the current owner, Tino Cappelletti, thanks to the constant contact with customers has been able to implement a strategy that brought the company to a radical change. The real boom came in the nineties, when it was decided to explore the foreign market, particularly the Arab and later to Europe, and then to diversify production. Beginning to understand the importance of the partnership between the brass culture and tradition of furniture wood canturino, the company has found its new position by specializing in the production of furniture in style classic. Today the company has grown to occupy a leading position among the most important furniture companies industry worldwide, selling its products all over the world. Furthermore to maximize its value the Cappelletti conceives now its own product in order to be able meet the needs of the entire house, providing a wide choice of products ranging from rooms bed, the dining rooms, to stay up to the kitchens and bathroom furnishings.
Search for more Products or more Manufacturers
Send your requests through this form and we will get back to you.
100% Made in Italy Certified Products
The 100% Made in Italy Certification provides consumers with the guarantee on the Italian orgin and the quality of purchased products. Manufacturers issued with the 100% Made in Italy Certification undergo a series of checks in order to verify that the entire production cycle takes place in Italy. The Certification follows the directives set in current Italian laws.
ISTITUTO TUTELA PRODUTTORI ITALIANI
Fermo | Palazzo Produttori | Via Carlo Cattaneo 1 | Tel. +39 0734 605481 |
[email protected]