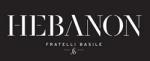 Hebanon is a 100% Made in Italy Certified Italian Manufacturer
STYLES
Giovanni Basile
(+39) 081 931377
Our Know-How is the result of an extensive experience developed by our master cabinet-makers through generations. This, together with the most advanced technological innovations in the field, makes our pieces of furniture true masterpieces of the Made in Italy.
Search for more Products or more Manufacturers
Send your requests through this form and we will get back to you.
100% Made in Italy Certified Products
The 100% Made in Italy Certification provides consumers with the guarantee on the Italian orgin and the quality of purchased products. Manufacturers issued with the 100% Made in Italy Certification undergo a series of checks in order to verify that the entire production cycle takes place in Italy. The Certification follows the directives set in current Italian laws.
ISTITUTO TUTELA PRODUTTORI ITALIANI
Fermo | Palazzo Produttori | Via Carlo Cattaneo 1 | Tel. +39 0734 605481 |
[email protected]