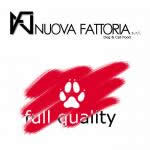 Nuova Fattoria is a 100% Made in Italy Certified Italian Manufacturer
PRODUCTS
Adriana Andrini
(+39) 030/9032308
New Farm srl began business by revolutionizing the traditional system of processing of dog food, introducing the innovative "selective Extrusion" by which, the noble materials, carefully selected to enter the recipes intended for pet animals, extruded and machined separately, continue to provide all their valuable nutritional characteristics, while maintaining both the principles of raw materials, is the nutritional value of the finished product, ensuring an assimilate up to 90%. For the production of our products, we are used only noble materials, that do not contain any type of product. The special feature of our production system, slower, but less standardized compared to traditional systems, precisely because it requires the presence and the constant control of qualified personnel that follows each stage of processing of the product, allows us to guarantee a great tranquility to the customer in 'use of our foods because they fully meet the real needs of a dog, both at rest and in full physical activity.
Search for more Products or more Manufacturers
Send your requests through this form and we will get back to you.
100% Made in Italy Certified Products
The 100% Made in Italy Certification provides consumers with the guarantee on the Italian orgin and the quality of purchased products. Manufacturers issued with the 100% Made in Italy Certification undergo a series of checks in order to verify that the entire production cycle takes place in Italy. The Certification follows the directives set in current Italian laws.
ISTITUTO TUTELA PRODUTTORI ITALIANI
Fermo | Palazzo Produttori | Via Carlo Cattaneo 1 | Tel. +39 0734 605481 |
[email protected]