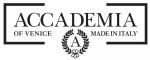 Accademia of Venice is a 100% Made in Italy Certified Italian Manufacturer
Fashion accessories
Giannino Barbato
(+39) 041 4165342
�Accademia� was founded in the early seventies by a team with a strong manufacturing and technical knowledge background about italian luxury shoes. Its name was inspired thanks to the close of the famous and well known �Accademia of Venice� where artistic education is main quality and simbol of creativity, more and more has carachterized this brand in fame, ralaibility and prestinge. First choice materials and top level handcraft experience of goods studied in every details make unique models, matching with a wide selection of leather bags, gloves and umbrella.
Search for more Products or more Manufacturers
Send your requests through this form and we will get back to you.
100% Made in Italy Certified Products
The 100% Made in Italy Certification provides consumers with the guarantee on the Italian orgin and the quality of purchased products. Manufacturers issued with the 100% Made in Italy Certification undergo a series of checks in order to verify that the entire production cycle takes place in Italy. The Certification follows the directives set in current Italian laws.
ISTITUTO TUTELA PRODUTTORI ITALIANI
Fermo | Palazzo Produttori | Via Carlo Cattaneo 1 | Tel. +39 0734 605481 |
[email protected]