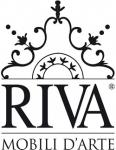 Riva Mobili D´Arte is a 100% Made in Italy Certified Italian Manufacturer
Furniture
Francesco Riva
(+39) 0362 72930
The family is the place of passion and dedication with no half measures. For this reason it is also the laboratory where dreams are born and turn into projects. There is an idea that should not be realized for design, which does not take forms and sizes, which does not require experience and creativity, as well as quality materials and proven craftsmanship. Combining attention to detail to the overview, marrying the imagination to the concrete and the courage to the tenacity, Francesco and Fabiana Riva made with Riva Mobili D'Arte a family that realizes the dreams and projects of your family.
Search for more Products or more Manufacturers
Send your requests through this form and we will get back to you.
100% Made in Italy Certified Products
The 100% Made in Italy Certification provides consumers with the guarantee on the Italian orgin and the quality of purchased products. Manufacturers issued with the 100% Made in Italy Certification undergo a series of checks in order to verify that the entire production cycle takes place in Italy. The Certification follows the directives set in current Italian laws.
ISTITUTO TUTELA PRODUTTORI ITALIANI
Fermo | Palazzo Produttori | Via Carlo Cattaneo 1 | Tel. +39 0734 605481 |
[email protected]