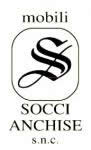 Socci is a 100% Made in Italy Certified Italian Manufacturer
Furnishing
Alessandro Socci
(+39) 0587 731682
You can furnish. You can imitate a style. Fabrics and materials can be combined. Our mission is to create unique environments to live and remember in time. The products Socci have a strong and distinctive identity, a vision de charme that illuminates and it captures the scene. Socci is a well known and internationally appreciated Firm of Luxury Furniture. Accurate choice of materials, technical and artistic perfection, search for a unique and sumptuous style are Socci's core values for 50 years in creating fine and exceptional furnishings. The union between art cabinetmaker of the past with contemporary style creates a complete synthesis of design, craftsmanship and quality that is not just luxury, but true elegance.
Search for more Products or more Manufacturers
Send your requests through this form and we will get back to you.
100% Made in Italy Certified Products
The 100% Made in Italy Certification provides consumers with the guarantee on the Italian orgin and the quality of purchased products. Manufacturers issued with the 100% Made in Italy Certification undergo a series of checks in order to verify that the entire production cycle takes place in Italy. The Certification follows the directives set in current Italian laws.
ISTITUTO TUTELA PRODUTTORI ITALIANI
Fermo | Palazzo Produttori | Via Carlo Cattaneo 1 | Tel. +39 0734 605481 |
[email protected]