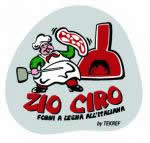 Zio Ciro is a 100% Made in Italy Certified Italian Manufacturer
Other
Luca Pieri
(+39) 0783 406005
Website: http://www.zio-ciro.co.uk/ E-mail:
[email protected]
Facebook page: http://www.facebook.com/pages/Zio-Ciro-i-veri-forni-a-legna-allitaliana/329579521219?id=329579521219&sk=info For more than fifteen years now the name TEK REF has been associated with stylish, top quality wood burning ovens for both domestic and professional use. The entire production cycle takes place in TEK REF's modern plan, situated in the Province of Oristano, Sardinia. At Zio Ciro, technologically advanced machinery and the expertise of technicians with years of experience in the sector guarantee the success of our production process still largely manual. Besides our wood burning ovens, well-known and appreciated throughout Italy Europe and the United States, TEK REF also produces traditional fireplaces, barbecues and antismog chimneypots. TEK REF's quality management system is certified under the UNI EN ISO 9001:2008 regulations. Always looking for innovative solutions to provide you the best wood fired ovens 100% Made in Italy, now our ovens are guaranteed by the brand "Zio Ciro" registered as a Community Trade Mark: a piece of unique design that gives a special touch and personalization to the kitchen, garden or balcony in which are installed. We export by our shipping agents or directly with our country distributors all across Europe, USA and other countries with our commercial brand "Zio Ciro" in two different range of products: Standard, Professional and Domestic Ovens: easy to as
Search for more Products or more Manufacturers
Send your requests through this form and we will get back to you.
100% Made in Italy Certified Products
The 100% Made in Italy Certification provides consumers with the guarantee on the Italian orgin and the quality of purchased products. Manufacturers issued with the 100% Made in Italy Certification undergo a series of checks in order to verify that the entire production cycle takes place in Italy. The Certification follows the directives set in current Italian laws.
ISTITUTO TUTELA PRODUTTORI ITALIANI
Fermo | Palazzo Produttori | Via Carlo Cattaneo 1 | Tel. +39 0734 605481 |
[email protected]