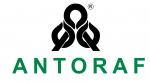 Antoraf is a 100% Made in Italy Certified Italian Manufacturer
Scarves
Bruno Vico
(+39) 0734 750066
Antoraf srl, is a Made in Italy 100% Certificate, was founded with the purpose of providing specialized support to major fashion brands, creating prestigious collections of knitted accessories. Our facility with thirty years experience, boasts of highly qualified staff and a production department that has technologically advanced textile machinery, equipped with the latest generation software, essential to meet the demanding needs of our customers. The entire production cycle of the sample is taken care of in-house: from weaving, dyeing treatments, until shipment to distributors of reference. We also have a thirty-year archive of knit stitches, processing, personalization with embroidery and printing techniques, from which we draw to update and submit articles. We enjoy good reputation among our customers due to on-time delivery and consistent quality of our products.
Search for more Products or more Manufacturers
Send your requests through this form and we will get back to you.
100% Made in Italy Certified Products
The 100% Made in Italy Certification provides consumers with the guarantee on the Italian orgin and the quality of purchased products. Manufacturers issued with the 100% Made in Italy Certification undergo a series of checks in order to verify that the entire production cycle takes place in Italy. The Certification follows the directives set in current Italian laws.
ISTITUTO TUTELA PRODUTTORI ITALIANI
Fermo | Palazzo Produttori | Via Carlo Cattaneo 1 | Tel. +39 0734 605481 |
[email protected]