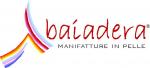 Baiadera is a 100% Made in Italy Certified Italian Manufacturer
STYLES
Maria Rosaria Supino
(+39) 081-19200705
The Baiadera�s handbags are made of the finest calfskin entirely hand painted following a special technique of workmanship that confers elegance and oneness to the�handbags manufactured. Baiadera takes care about the manufacturing of the leather. To obtain a top quality product, the process of manufacturing� follows up to 7 different steps. Starting from a careful selection of the leather�s quality, preparation of the leather for painting, painting, drying, retouching, colour fixing� and the final step the �waxing� of the leather.Baiadera purses are made of crust of leather of first quality and colours of natural origins. This helps to distinguish handcrafted purses of Baiadera from others.
Search for more Products or more Manufacturers
Send your requests through this form and we will get back to you.
100% Made in Italy Certified Products
The 100% Made in Italy Certification provides consumers with the guarantee on the Italian orgin and the quality of purchased products. Manufacturers issued with the 100% Made in Italy Certification undergo a series of checks in order to verify that the entire production cycle takes place in Italy. The Certification follows the directives set in current Italian laws.
ISTITUTO TUTELA PRODUTTORI ITALIANI
Fermo | Palazzo Produttori | Via Carlo Cattaneo 1 | Tel. +39 0734 605481 |
[email protected]