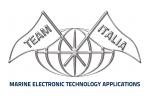 I Bridge is a 100% Made in Italy Certified Italian Manufacturer
PRODUCTS
massimo minnella
(+39) 0721-855234
Highly innovative and competitive companies all around the world have been developing and distributing the technologies used in the shipbuilding sector today. Their products are standalone devices dedicated to navigation, telecommunication, safety or data transmission. The challenge that TEAM Italia has been faced with every day for thirty years is optimizing the functional integration of these single devices and making them simple to use at sea. TEAM Italia's approach to this problem is to offer an integrated system solution called I-Bridge®, which provides for ease of use, speed of response, and more safety at sea.
Search for more Products or more Manufacturers
Send your requests through this form and we will get back to you.
100% Made in Italy Certified Products
The 100% Made in Italy Certification provides consumers with the guarantee on the Italian orgin and the quality of purchased products. Manufacturers issued with the 100% Made in Italy Certification undergo a series of checks in order to verify that the entire production cycle takes place in Italy. The Certification follows the directives set in current Italian laws.
ISTITUTO TUTELA PRODUTTORI ITALIANI
Fermo | Palazzo Produttori | Via Carlo Cattaneo 1 | Tel. +39 0734 605481 |
[email protected]